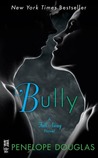 Bully
by
Penelope Douglas
My rating:
5 of 5 stars
Ok since my twin sister read this book and loved it and said I had to read it, and I had it sitting on my kindle forever know I decided what the hell…
Well by far one of my favorite books.
Tate and Jared are next door neighbors. Have been best friends since they were little. They do everything together. In separable. Until Jared goes away for the summer to hang out with his father. He comes home a new person, but for the worst. He started being a bully. Saying and doing the worst things to Tate. Making her life a living hell.
So Tates moves across the world and study abroad for a year. This should make things better. Getting a away for a year, people forgetting about her. Tate is determined to have the best senior year back home ever. She is not letting anyone bring her down, especially not Jared. So Tate starts standing up for herself. This includes punching Madoc (Jared's best friend) in the nose, kneeing him in the groin, and crashing and breaking up Jared's load and crazy parties next door.
Since Tate came back from her trip looking hot and different guys are throwing themselves at her and Jared hates it. Why you ask?! Because he likes her! DUH… Has your mother ever told you the reason why boys pick on you in school is because they like you… YUP…
I'm not a big fan of Tate though. What does one have to do to prove to you that he loves you…. Like really…all signs are there…..
Gaw…..but it was a page turner and since I hate romance books and this kept my attention… 5 stars
View all my reviews